Newport Vessels Inflatable Sport Boat 9.5 ft Dinghy – Tender, Skiff, Rib, Zodiac & Caribe Like
Attention all you diehard fishermen out there! Are you among those who will follow the fish anywhere — even into those hard to reach back water areas? How about some of those areas where your boat just can't  Boatsafely travel; or those places where you just can't get your boat and trailer close enough to launch the boat?  Could you make use of a ruggedly built, inflatable skiff?  Well, allow me to introduce you to the Newport Vessels inflatable sport boat 9.5 ft dinghy, tender, skiff, rib, zodiac & caribe-like full boat and accessories package.  Let's take a closer look at the product: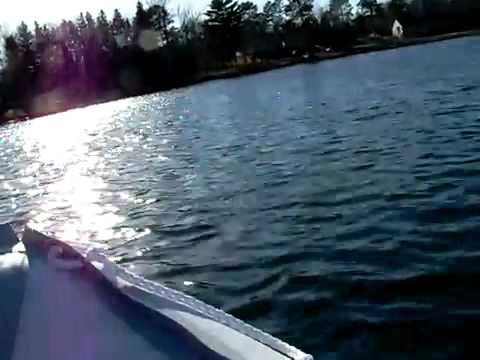 Inflatable Sport Boat Product Specifications:
It is a 9 ft 6 inch Newport Vessels inflatable hard floor boat.
Included in the package are two aluminum oars, one carrying case, one repair kit and a removable bench.
Constructed with a 24mm thick aluminum framed custom hard marine coated plywood floor
The boat body is made of 0.9mm triple layered polyester reinforced and coated PVC.
It is constructed with materials that ensure protection against corrosion, sun, salt and other destructive elements.
Complete with all original registration documentation; i.e. MSO and bill of sale.  This enables easy and no-hassle registration of your new vessel.
Newport Vessels conforms to and is registered with United States Coast Guard.  This ensures safety and registration ease.
This is an inflatable boat only.  There is no motor included in the package.
This impressive rigid inflatable boat also has a one way drain plug, two carrying handles, towing D rings and four separate air chambers for safety and durability of the product.  The marine grade aluminum interior motor pads permit more transom protection.
There are oar locks and oar holders sturdily mounted on the boat body.  Don't feel like rowing?  Well… the transom and boat body of this inflatable zodiac will accommodate up to a 10hp outboard motor.
5 Star Amazon Customer Reviews
Did you know that Newport Vessels is well known for producing the highest quality products that are backed by the best customer service in the industry?  How could you go wrong?  The only way you could go wrong is by not purchasing one.  Here are a few quotes from happy Amazon customers who purchased this inflatable sport boat:
"I thought at this price the deal was too good to be true. When the boat arrived it was way better than I expected. This is a high quality, heavy duty, ocean going boat…."
"Honestly couldn't be happier with my purchase. On time delivery and you could tell from the first time on the water that they took no short cuts in quality despite the low price. I've probably been out 50-60 times with no wear down to speak of. Really impressed!"
Can you see yourself in one of these inflatable boats?  Can you think of some places you'd like to take it?  Do you think we should warn the fish?  Check out the Newport Vessels inflatable sport boat 9.5 ft  rigid inflatable boats, and accessories package.  Then, head on out to all of those back water fishing spots you have been dying to try…