The weather is just right. The sun is up, and it is nice and warm out. It's time to hit the lake! The question is; what is more fun, taking turns riding a tube or getting to ride two at a time across the lake? You know the answer of course. Flying behind a boat and jumping the wake is so much more fun when you can do it with a friend. Airhead has made a name for itself by creating top of the line towable tubes, and now they have done it again.
The U-Tube 2-person Towable from Airhead is a killer new design built with one to two people in mind. It has two separate tow points which allow it to be pulled different ways depending on the rider or riders. When pulling it from the end you will be able to take advantage of the awesome rocking motion. You will be able to cut left and right busting through the wakes.
Water Tube Features:

* Suitable for 1-2 riders
* 2 different tow points
* 6 deluxe handles with neoprene knuckle guards
* Nylon covered inflatable surface
* Tube Size (deflated): 61″ H x 60″ W
* Free Shipping with Amazon prime
By simply attaching the tow rope to the bottom, you and a friend can then ride this awesome 2-rider towable chariot style. No matter which way you decide to ride this Airhead tube, you and your friends or family will have an absolute blast. There is no substitute for fun in the sun when good weather hits. What better way to enjoy it than by being on the water?
White Water Fun
Riding through the waves behind a boat can be extremely exhilarating. The feel of the breeze and the spray from the water flying across your body can be great. You can almost hear the screams of joy and fun as you and the other riders enjoy taking their turns behind the boat. One thing you definitely won't have to worry with is whether or not the water tube will hold up.
This is because the company, Kwik Tek, uses only the highest quality materials to create its outstanding Airhead ski tubes. The U-tube is no exception to this dedication to quality. The air bladder is made from heavy duty 30 gauge PVC. This is then covered with nylon (840 denier) which helps to protect the rider from accidental friction burns. You will also find that the oversized panels made from neoprene help to protect your knees.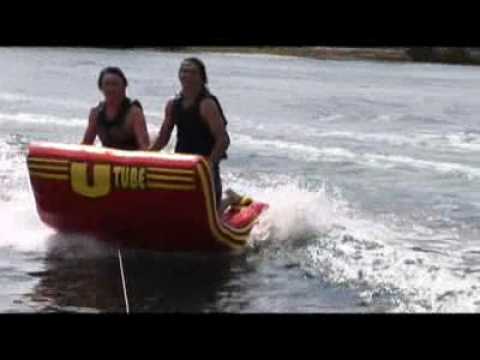 Watch here to see the 2 different styles of towing, and then click here to order!
There are also six different handles that feature neoprene knuckle protectors. You will have plenty of spots to hold on when you start to go flying across the water! All you will have to add will be the proper towable tube rope, and you will be able to get underway.
Deflated Tube Dimension: 61″ H x 60″ W
If you are looking for an outstanding towable tube that can offer a great deal of side to side play, then the U-Tube 2-person Towable from Airhead is just what you have been looking for. Why put off choosing a great towable tube when you can get this one right now? Check it out right now and get your new U-tube shipped to your home free of charge!