Get into your zone with the Sportsstuff SpeedZone 1 RiderTowable Tube this summer season and you'll be well prepared and equipped to exceed your appropriate levels of water satisfaction.  It's quite a thrill ride if you've never experienced it.  Your heart will pound non-stop and your temperature may rise and fall like a roller-coaster as you're pulled along with nothing in your way.  This towable tube is everything that you could possibly ask for.
Sportsstuff has created a tube that delivers all the excitement on so many levels.  This one rider towable ski tube will have you gliding effortlessly across the water with a steady chorus of double-takes occurring.
Features of the Sportsstuff Speedzone Towable include:
Reinforced tow system
Custom caution stripe safety graphics
Padded valve cover
Speedy safety valve for fast, easy inflation/deflation
Double webbing foam handles with knuckle pads
Heavy-duty double-stitched full nylon cover
Heavy-duty PVC bladder
Air cushioned floor and backrest
Inflated Length: 54″ Diameter
All Fun, No Frills.
The team at Sportsstuff have produced quite an enviable piece of equipment.  This one rider towable inner tube has been carefully planned and carried out to exact specifications which deliver the highest possible level of fun and excitement ever.  You can start your inspection by looking into the materials chosen.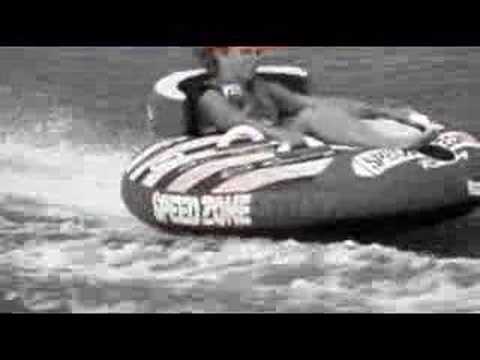 Enjoy the ride all to yourself – just hang on; no need to pop out! Click here to order your Speedzone today!
You'll notice right away that this ride comes reinforced with a heavy-duty PVC bladder, as well as a heavy duty double-stitched full nylon cover.  This is to ensure that this inflatable tube will take any type of punishment that you can muster and then give it right back in the form of pleasure and enjoyment.  The materials also really help to extend the life-span of this wonderful flotation device.
The reinforced tow system is also something that shouldn't be overlooked in this boat towable water sports tube.  It offers users the stability and the reassurance that while they're helplessly at the mercy of the water and the boat, they're also guaranteed to be safely riding along without fear of foul-play.  An added safety feature that also doubles as cool eye-candy is the custom caution stripe safety graphics along the side of the tube.  Now you'll be able to ride in style and safety at the very same time.
The tube design also includes cockpit style seating which allows for riders to feel more comfortable as well as secure.  The bottom of the cockpit has been equipped with an air-cushioned floor designed to give extra comfort to the rider while in motion.  The back rest provides ample support as well and comes fully air-padded just like the cockpit floor.  For those not brave enough to experience the full thrill of riding hands free, some strategically placed double webbing foam handles have been incorporated into the flow of the design as well.
All in all, this one rider towable inner tube is unmistakably well designed and thought out and guaranteed to provide ample amounts of fun and exhilaration throughout your entire summer season and for those extra hot days at the beach.