Make no mistakes; don't check your eyes, or your pulse, but the Sportsstuff Sumo Towable Tube is very exciting and delivers quite a fun punch.  So don't be too shocked when one day you're just sitting on your very own towable tube, waiting for the boat to speed up and suddenly what looks like a large massive ball floats by with a passenger yelling at the top of his lungs "wheeeeeeeeee."  It could happen because this very one of a kind sumo towable tube offers an experience none quite like any of its predecessors or counterparts.
Summary of Features and Specs:
Rope handle included
1 quickly inflating chamber
Constructed out of non-corrosive heavy-gauge PVC material
Use for riders 10 years & older and at least 5 feet tall. Not recommended for riders over 170 lbs of weight
Dimensions: 38″L x 33″W x 33″H
Good Amazon reviews
Picture, if you will, yourself inside a very sturdy, strong, and safe apparatus that is designed to give the rider full control of directional movements with the slightest shift in weight and positioning.  That's what you get when you step inside a sumo suit of this caliber.  Sportsstuff has created something that will definitely leave an impression on your memories as well as change the way you body surf.  Instead of lying comfortably on your back which still remains a popular choice, you'll be able to lie flat on your belly and experience the water up close and personal.
A Sumo Success Story
The ingenious designers and engineers at Sportsstuff have created something truly unique.  They have taken the realm of body surfing and towable tubes and collided them head on with the world of sumo suits.  The suit itself is constructed of a non-corrosive heavy-gauge PVC material which is synonymous for being able to withstand the rigors of usage and time.  This means you'll be able to experience the joy of truly flying on top of water for years to come.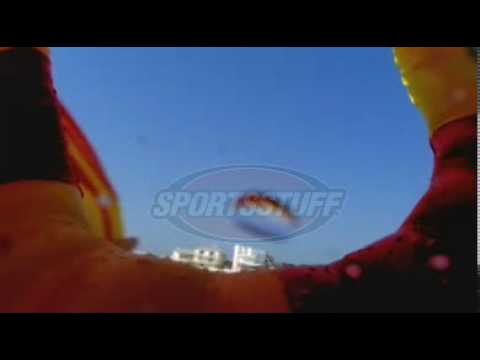 This is unique – or tubing and surfing!  Have fun with yours today!
This wonderfully unique towable inflatable also comes equipped with an easy quick inflation chamber which allows users to inflate fast and enjoy the water even faster.  The sumo suit does come with a rope handle as well which is how the rider remains in a constant motion.  Perhaps the greatest part of the design is the fact that as the rider, you're able to propel your body in 360 degrees and still be in control.  By moving your arms left or right will help determine what direction your suit travels in.
The suit however does require very strict minimum requirements.  It helps to be of at least 10 years of age and five feet tall, otherwise there might be issues that involve not fitting properly or slipping out of the suit itself.  For all those people below 170 lbs, this ride is also for you because they're trying to simulate a sumo suit, not have a sumo sized sumo simulation going on.  Just think of it as providing a good reason to get back into tremendous shape so you too can take advantage of this one of a kind thrill ride.