On days when you only want to relax while spending a day at the beach, on the lake, or even your backyard pool, just pull out the Sportsstuff Siesta Lounge Raft and kick your relaxation into full gear.  So you've been there many times; actually we all have.  You've just had an excruciating week, and can't quite remember the last time you came up for air.  It just so happens that this weekend the weather is going to be gorgeous outside and it's perhaps the only saving grace of your already extended stress week.
There's nothing better than being able to escape if only even for brief periods of time, but to do it while reclining on top of crystal clear blue waters would add that extra level of perfection.  This inflatable lounge raft will have your cares slowly melting away from your body and recharged and ready to face the real world in no time at all.
Summary of Inflatable Lounge Features:
Heavy-gauge PVC bladder
Durable nylon full cover
Inflatable backrest
Zippered storage compartments
2 cup holders
Folding, inflatable footrest
Handles for easy transportation
68″ long x 40″ wide
This Siesta Lounge Raft really is quite something to marvel at.  It has all the characteristics and makings of a wonderful family room recliner, but what totally blows the socks and stress off of everyone who sees and tries it is the fact that you can recreate that homeyness on top of the water.  Now every location with the great outdoors can be a reclining environment.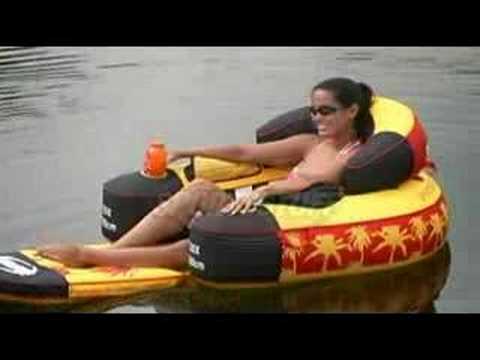 Imagine yourself in this relaxing raft!   Click here to order your Siesta lounger today!
The Ultimate Water Lounge Experience
This pool raft definitely has many qualities that consumers just might be looking for in an everyday seat, but with a few slight modifications to suit outdoor needs.  For one thing, we can begin by taking a look into the materials that cover this wonderful floating lounge.  It's surrounded by a heavy-gauge PVC bladder that enables durability throughout the years of usage.  The durable nylon full cover that this one person lounge tube comes with also adds to the lifespan of this wonderful device.
For an added level of comfort, Sportsstuff has incorporated an inflatable backrest into the design which mimics a deck chair.  Accompanied by not one, but two conveniently located cup holders and you're pretty much prepared to kick back relax, and enjoy yourself for an afternoon.  You'll be thrilled to also find out that there are some very handy zippered storage compartments which allow you to store your other outdoor necessities such as sun-screen, a book or two and even some snacks.
With handles that allow for easy transportation to and from the water, there's nothing more that any person could ask for in terms of portable, on the water comfort that allows for a full stretching of the legs without having to get them wet unless you choose to.  Of course, you could ask for a shorter work week and a more understanding boss, but that just might be a whole other bag of worms that you're going to have to sort out on your own time.