Your kids love the water just as much as you do, right? Well, imagine how difficult it must be for them to have to sit back and watch as the big kids and adults get to enjoy being towed around by a boat. Sometimes this may be due to a safety concern, or maybe it is because they are too small for the towable tube. Whatever the case may be, there is now a terrific way to let your younger kids have the fun that before they had only dreamed of.
The Sportsstuff Kids Dash Towable Tube with Optional 2K Tow Rope is an awesome towable that is outstanding for allowing kids to have all the fun of their larger counterparts. You read it right! This tube is actually shaped like a giant hi top sneaker. Now you can tow your kids all over the place across the lake. With the formed backrest, you will not have the worry of watching your child go tumbling off backwards.
Kids can lean back, hold on to the molded hand grips and scream in fun as they go flying across the lake. The question you will have to ask is whether or not you can keep your bigger kids from wanting to ride on it as well. Kids inflatable water tubes typically tend to be small and low quality. This is not one of those, however. Sportsstuff is a maker of high quality young riders boating tubes. This means that you will be able to rely on the Kids Cruizer Shoe to hold up to repeated use.
The Really Big Shoe
Water safety is a very important issue and with these kid water ski tubes you will be able to keep your little one quite secure. You will be able to pull your kids around the water at safe speeds without worrying about whipping them about. They will be snug in the interior of the "shoe" yelling with delight.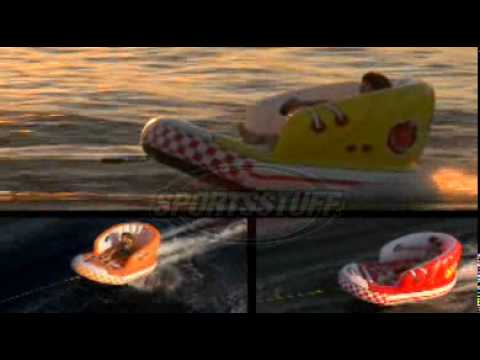 See the fun for yourself, and order for the kids today!
This particular Sportsstuff towable ski tube is offered with an optional 2K tow rope. You will be able to tie it off to your kids' new tube and to the boat. Before you know it they will be hugging your neck and thanking you for the super time that they had. You may even find yourself hard pressed to say no when you start hearing cries of "one more time, please!"
Dimensions of Inflated Tube: 36in H x 74in L x 49in W
Summer time has always been fun time for kids. When school lets out many want to immediately head out to the beach or the lake. The towable shoe water  tube allows them the freedom on the water they are craving. There is no feeling like seeing your kids have the time of their lives. It helps to know that your investment has been one that is highly appreciated.
Take a look at the Sportsstuff Dash Towable Tube with Optional 2K Tow Rope today. You will find that you will love it almost as much as your kids!