If running to the car, up the beach or even into the house for a cold beverage isn't something that you like to do while soaked to the bone from water fun, then the Sportsstuff Floating Cooler was made specifically for you.  We've all been there before.  After having spent the past hour or so tearing it up on the water either swimming, being pulled on an inflatable tube by a boat, or just plain old horsing around with friends, we get thirsty.  The shore, dock or wherever the nearest watering station is just seems like its so far away.
Floating Cooler Features:
Molded PVC comfort grip handles
PVC bladder
Heat sealed seams
Safety valves
Reinforced grommet
Full circumference zippered lid
Color-coded cup holders
Inflated Length: 30″ – 57″ Diameter Based on Model
Hand Pump is not included and must be purchased separately
Just imagine the ability to float across to this wonderful icebox on a tube and grab a cold refreshing drink without having to get out of the water.  It's truly amazing when you think about it.  Plus the convenience factor totally outweighs any negative attributes you're trying to link together in your brain to deter you from making another easy purchase.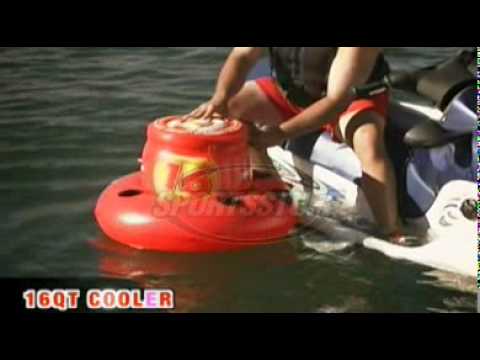 Get your hands on one of these today – and stay cool in the pool all day!
No Sinking, Just Sipping
This flotation device was designed to stay afloat and that is exactly what it does.  If we take a closer look, this floating cooler has a PVC bladder and heat sealed seams to make sure no water ever penetrates the inner sanctum of the beverage cooling area.  You'll also notice that the sides have been equipped with superbly chosen molded PVC comfort grip handles because no one wants to be lugging around a cumbersome device of any sort.
For extra added cooling capabilities, this floating cooler for the pool has a full circumference zippered lid which allows your drinks to remain in a frozen shade, only to be revealed when consumption is necessary.  Another really cool feature is the color coded cup holders.  No longer will you have to ask yourself which fizzy drink is yours, now all you have to do is remember which color you placed it in and voila, your thirst will be conquered.
There's really nothing to it – you inflate it and then you add ice.  After that,  just pick your beverage and let it float along side you as you and your friends enjoy your day of water fun.  The only thing to plan in advance for this particular party enhancer is the fact that you have to have a hand pump.  The device itself doesn't come equipped with one in the packaging; an alternative one must be purchased.  However, when all is said and done, it seems like a very small price to pay to keep the party going on and on and on.