Rave Sports the Blade Boat Tow is definitely going to have you all up in frenzy.  If you're a fan of speed, just think about what it would be like to fly across the water and jump from wake to wake, wave to wave, and feel the rush of the wind and water crashing all around you in a symphony of excitement all while holding onto for dear life, white knuckles and all.  Now multiply this feeling by 20 and you might get close to the exhilaration you'll experience while riding upon this inflatable boat tow tube.
Features and Specification of the Rave Blade Boat Towable:
Single rider boat tube
Easily transports and inflates for convenient use
Skim FastTM bottom material that gets up on plane much quicker
Heavy duty PVC bladder
Reinforced quick connect tow point
4 foam filled handles with neoprene knuckle guards
Dimensions:48″ Diameter x 16″ H
Designed for the Speed Demon in You
Rave's latest towable watertube for speed boats was designed with one purpose in mind and that's to go really, really fast.  When you open up this wonderfully crafted and designed package, you're going to instantly recognize the superior quality that Rave Sports places into each of its products.  For starters, you'll notice the single rider towable tube and a very handy and functional PVC repair kit.
The tube itself is constructed of heavy duty PVC which basically means that this speed-demon can take a beating and still be ready for the next wave.  However, the PVC repair kit is included for those "just in case" moments where it might need a little attention in the repair department.  This lightweight towable also inflates quite quickly and will work with a variety of pumps that ensure less time on shore.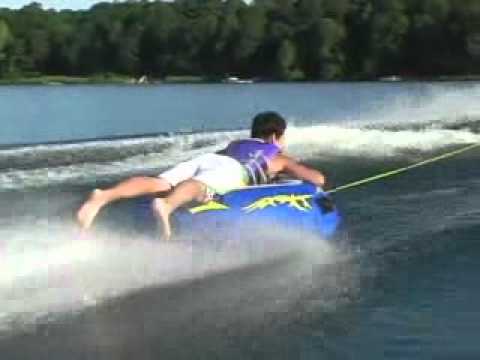 See yourself on one of these:  Click here to order now and start having fun!
If you flip this one person water tube over you'll notice that the bottom is made from something that doesn't mimic the top.  That's because it's been designed and created with a Skim Fast bottom that allows for the tube and its rider, to be able to get right into the plane faster than anything else you've every tried before.  Overall the best materials were incorporated into the design of this tube and the heavy duty PVC bladder is a dead giveaway for quality and comfort.
For the moments that you might be inclined to hold on tighter, your knuckles will very much appreciate the foam filled neoprene knuckle guards positioned very comfortably at the top of the tube.  Perhaps the only drawback for this speed ride is the fact that you'll need to purchase a heavy duty quality rope before any fun can be had in the speed department, but even that itself is a very minor and forgivable detail.  So go out and grab yourself one today!