The Hot Shot Water Towable Tube just made weekend jaunts to the water hideaway destination of your choice a whole lot more difficult to resist.  Factor in the approaching summer months as well as warmer temperatures and you'll be watching the mercury for signs of rising in days to come.  Never has such a compact water tube allowed riders to experience such huge fun.
In mere minutes you'll be able to inflate this boat tube because of its Boston valve that is purely designed for quick air transfer and flow, as well as maintaining a firm and tight seal as to not let any air escape after it's closed.
Riders will be thrilled at its ability to seemingly float on the water while being pulled at a safe distance behind with the adjustable rope that can be changed to either 50 or 60 feet long depending on how much of a thrill seeker you are on that particular day.
Listed Features include:
57″ round deck tube is built to last; * PVC bladder is completely covered with double stitched nylon cover;
4 deluxe handles with neoprene knuckle guards; * Equipped with Boston valve for quick inflating and deflating;
The optional rope has 2 sections, giving you the option to be either 50 or 60 feet behind the boat depending on wake and water conditions;
The optional rope is also offers pre-stretched UV-resistant 7/16 inch diameter 16-strand rope that exceeds the 2,375 pound break strength required by the WSIA for 2-rider tubes;
The optional rope also comes with a Rope Keeper for convenient storage.
Keep in mind that the fun is most definitely doubled on this round watersports tube because it's designed for two.  As a two person towable, you and a companion can experience the wind flowing through your hair as your breath races to catch up with your elevated heartbeat due to the immense amounts of fun being experienced one ride at a time.
Just look at these "Hot Shots" having fun! Order NOW! Shipping is free!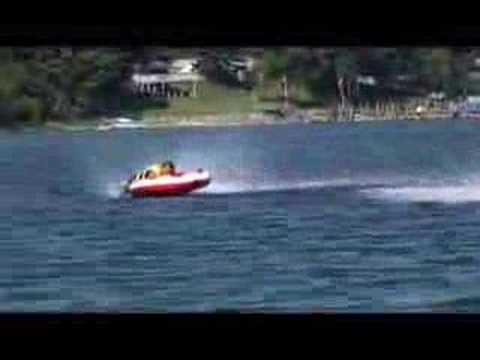 Built to Last
While your family and friends quickly tear up the waves and the sun, remember to capture the events with your camera because you never know what will happen with your Hot Shot towable tube. Rest assured that every precaution and safety issue was engineered into this wonderful product from the very beginning so you and your family will be safe as long as you stay away from foul play.
However don't just take my word for it!  Even though it was designed for the maximum fun deliverable to you and your family, Airhead definitely didn't forget to factor in safety as well as superior craftsmanship and quality.
Take for instance the PVC bladder that was designed strategically to completely surround the ski tube with a double stitched nylon cover for the single purpose of prolonging your towable's life on the water.  Just in case you and your friends get a little bit timid after some rough waves, this boat tube also comes equipped with four deluxe handles that come with the bonus of neoprene knuckle guards for added extra comfort.
So go ahead and pick this inflatable boat tube up – you will not be disappointed.