Make sure that your next trip to the beach or water includes the Sportsstuff Wet N Wild Flyer Towable Tube or you'll be left standing on the shore all dry and bored.  If the name hasn't given it away completely, this latest fun inspired device from Sportsstuff will have your friends and family soaked to the bone, but for all the right reasons.  They'll all be zipping merrily along the water as you watch from the safety of your boat as they bask in the sun and are cooled naturally by the splashing of the water.  The occasional bump produced by the effects of the wake might also make for a fun time as well.
Features of Wet N Wild Boat Tube

Classic Deck Tube Design
1-3 Riders
Heavy-Duty Full Nylon Cover with Zipper
Double Webbing Foam Handles with Knuckle Guards
Heavy-Gauge PVC Bladder & Patented Speed Safety Valve
Patented Aluminum Quick Connect Tow Point
2 EVA Foam Body Pads for maximum comfort
This very trendy and eye-catching 1-3 rider tow behind boat tube will have all the innocent bystanders wishing for a moment that they could be privileged enough to ride upon it if even for a minute or two.
They say you've never quite experienced anything on the water in terms of inflatable ski tubes unless it's belly first, waves and water splashing all around and with two of your closest friends.  This is probably why Sportsstuff is associated with going all the way and they really want you to experience everything along the way as well.
Wet and Wild like No Other
This popular flotation device has been carefully and masterfully put together.  Its body is made from a heavy-gauge PVC bladder.  The comfort factor was not neglected in terms of stability and longevity.  So you're definitely going to notice and appreciate the softness and gentleness of the EVA foam body pad as you ride along with two other friends.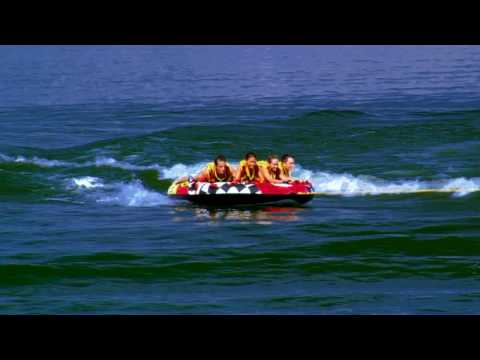 See the fun for yourself, with the 4k Booster Ball!  Click here to order today.
However, getting back to the construction and build of this amazing multi-rider large towable deck tube, you'll notice that it also comes with a double-stitched nylon full cover that is made more functional by a covered zipper.  Staying with the double theme, Sportsstuff has also made it very convenient and reachable for riders to grab on to the double-webbing foam handles with knuckle pads in case of fright or emergency while experiencing the water head on.
These handles and knuckle guards also provide a means of experiencing the ride different each time.  To do this really, all one has to do is exchange the position that they were previously in and grab a different set of handles.  Safety wise, this towable tube comes with an exceptional tow rope holster that allows passengers to breathe a sigh of relief or to remove the fear that something unexpected might happen to the connection while riding along.
For a day on the lake or beach front, this swimming pool water tube makes a huge difference and allows for passengers of all shapes and sizes to experience the water like it was meant to be – wet and wild of course!