So, you want to have fun in the sun and on the water?  Sportsstuff Super Mable towable tube with an optional 4K tow rope is the way to go. You and your family or friends will have one heck of a time on this great towable tube. It holds one to three people at a time. Nobody will soon forget the fun they had.
Super Mable Towable Tube Specs
Heavy-Gauge PVC Bladder, Heavy-Duty Full Nylon Cover
Reinforced Heavy-Duty Tow System – Two Ways to Tow
Patented Speed Safety Valve for Fast Inflation & Deflation
Double-Webbing Foam Handles with Knuckle Pads
Pulls up to 3-Riders
Amazon Reviews:  4 out of 5 stars – a Best Seller!
Dimensions Inflated: 82" L x 83" W
There is so much fun to be had on the water and having the right equipment for activities is a must. With the Super Mable towable tube all the safety features are there to decrease the likelihood of injuries. This is a three man towable tube with plenty of handles to hold onto for a thrilling ride. The handles are double webbed foam with knuckle pads to make it easier to hold to and less chance of damaging your hands while holding and riding.
If the riders get tired of riding one way they can turn around for a whole different way of riding.
Or, if you prefer you can lean back and relax on the backrest and take a leisurely ride and just enjoy.
Activities on the water are a great way to stay healthy and fit both physically and mentally. It is a way to make memories that will last a life time with family and friends.
Durability for Lasting Fun
This towable tube is made for play and fun. Holding three people gives them the time of their lives and they can share the memories of their ride together. This towable tube is made to last. It has a double stitched nylon full cover with a zipper. The fabric has a P.U. coating for added durability. Imagine zipping across the water and having a blast without having to worry about the Super Mable falling apart underneath you.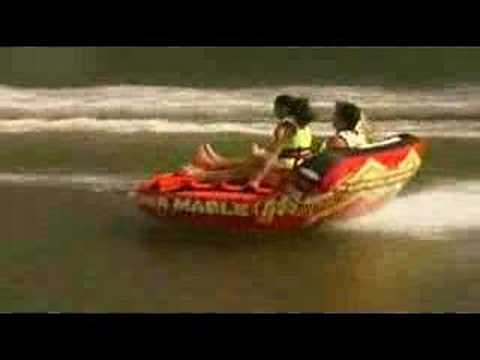 Hang on for lots of fun!  Order from Amazon today!
The tube has a heavy gauge PVC bladder with single chamber inflation.  A self bailing drain vent is just another one of the great things about this tube. The back rest helps to give the rider some back support for longer periods of being towed. There are foam seats and knee pads for comfort and to decrease the likelihood of skin abrasions or burns.
The Super Mabel towable tube comes with the option to purchase a 4K tow row. This is an awesome tow rope that has 4,100 pound break strength. Now that is some towing power. This rope is designed specifically for towing tubes and Super Mable has a front and rear tow point.  Not to mention that you get 60 foot of rope and a rope caddy. Now that is a deal in itself. You will soon agree that this is one great water toy.
Buy a Super Mable towable tube today and start the fun and excitement that any new water toys bring.  Don't stop here take a look at this awesome towable tube now to see all that Super Mabel has to offer. Take advantage of a definite cost savings and get your free shipping today. Now we're talking!