Anyone who loves the water will be drawn to this water trampoline. When you want something bright, colorful, and fun, this is the inflatable to have. It makes a great addition to any other water toys that you have or works great just by itself. You will find yourself and your family and friends spending many happy fun filled hours bouncing their heart out. No one will realize that they are getting the exercise and activity that they need to keep them healthy and happy.
The Sportsstuff 12′ Funstation water bouncer is a great way to work off stress and have some good old fashion fun. Everyone, adults and kids alike will love getting up to bounce on this wonderful trampoline. With a twelve foot diameter, there is plenty of room to do all the jumping and bouncing you want. Being on the water adds that extra excitement and bounce ability that isn't found on traditional trampolines.
The colors and writing on the funstation are bright and make you want to get out and just play. The jumping area is dark and easily identifiable as the area that you need to stay on for safety. This trampoline is recommended for six years and older to jump and play on. It measures approximately thirty six inches in height and has an addition attached to make getting on the water trampoline easier.
Easy Set Up
There is an optional high volume electrical air pump that you can purchase to inflate the Playstation. It is easy to set up so you will be able to get out there and play without taking forever to get it inflated. This same air pump works great when getting ready to maintain or pack away for the season. With a one way valve you can be sure that you will not have to fight to get it inflated.
There are no metal frames or springs that you have to worry with when caring for your new trampoline. A heavy gauge PVC bladder assures you of long life for lots of fun. This Sportsstuff trampoline has an all elastic webbing frame system making you bouncer higher and is safer to use. There are molded handles making it easier to grip and get yourself into position to bounce away the day!
This manufacturer includes instruction for maintaining your trampoline with your purchase. Always be sure to follow the instructions provided so that you will have this giant water toy to play on for many years. Never store your Playstation wet until the next season, as this can be detrimental to the material used in the construction of the trampoline.
Get the trampoline that will draw a crowd today for that lake or water location near you at an awesome price. You and your kids will have the time of their lives playing on this big bold inflatable water toy. Take a look at just what this awesome Sportsstuff 12′ Playstation water trampoline has to offer you now. Then, get ready to have some of the best water fun you have ever had.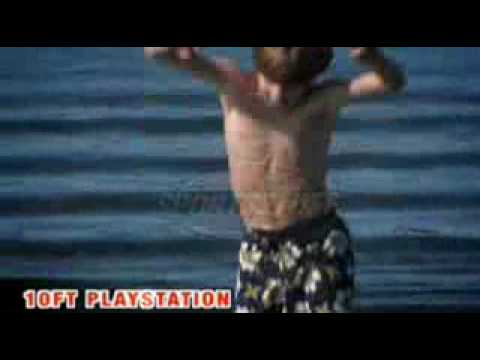 Jump your way to fun in the sun, and order now!