Are you looking for tons of fun for the family when you hit the lake? There is one great way to get everyone going and having a blast. A water craft and the right inflatable can have your kids or friends yelling in delight. The biggest decision you will have to make is what sort of inflatable you want to get. The best idea is to get one that everyone can enjoy together. A towable one can do just what you need.
Rave Sports, a leader in the towable tubes market, has the answer to your need. Its 5 seat Waterboggan Boat Tow will be the perfect addition to your summer fun. As with other Rave Sports towables, the Waterboggan is made from only the best materials possible. You will be able to pull it out at the lake or beach, blow it up, attach your tow rope and away you go.
Features & Specs of  Rave Sports 5 rider Boat Towable:
Includes PVC repair kit
Transports and inflates easily
5 comfortable seats
Material is 1,000 denier, 28-oz. PVC
One year warranty – material failure or faulty workmanship
Inflated Dimensions:20″ H, 4′ W, 21′ L
Free Shipping
How much easier can it get than that? With the ability to comfortably seat five people no one will get left high and dry. Imagine flying along on the water when suddenly the boat towing you takes a turn… talk about making a splash! This is the sort of fun that lives on in memories for years to come. Everyone will look back and wish that they could have that thrill again and again. And you can!
Quality Craftsmanship
This 5 person towable is made out of 28 ounce PVC (1,000 denier) which means it will hold up to repeated years of use. As you know there is always a chance of a stray puncture no matter how tough the material. The included PVC repair kit with soon have you skimming along and holding on for all its worth.
This alone can keep you hanging on and screaming along as everyone enjoys riding the 5 seat Waterboggan Boat Tow. When it comes to quality Rave Sports takes things very seriously. Not only are the highest quality materials used in the creation of each boat tow, the company stands behind its products 100 percent.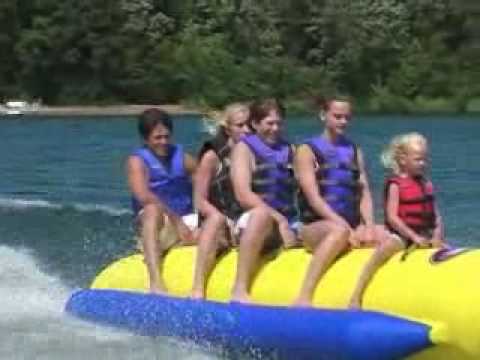 Look, Ma – no hands! I think I even counted 6! Click here to order today.
Your Waterboggan will come with a one year warranty covering any faulty workmanship and/or material failure. This speaks a lot on how strongly Rave feels that it is creating the best products possible. Another great thing about this particular inflatable is that there are no tools needed to get things going. Simply hook an inflator up to it and in about five or ten minutes you will be able to get on the water.
There are a few accessories available for purchase as well. These include the tow rope you will need for towing the Waterboggan behind a boat and conditioner/sealer to keep the PVC at its best year in and year out.
If you are looking to have a great deal of fun on the water then the Rave Sports 5 seat Waterboggan Boat Tow is right up your alley. Check it out today and take advantage of the free shipping!