When you want high flying great fun on the water, then you have to get the Bongo. Not only will you be the kids' best friends, but those adults who are just kids at heart. Some of the best exercise you can get is in the water  jumping on this platform; you've increased your workout and fun level. Not many people would think of this as  fun and working out at the same time. I wouldn't tell the kids that they are getting any exercise though. Just let them think of it as water fun!
The Rave Sports 13" Bongo water bounce platform is pure enjoyment that you will love for years. When it comes to creating water sports toys, Rave Sports has outdone it with this one. It is so easy to play on and to care for that you will wonder what took you so long to get yours. With nine feet of decagon for the jumping surface you have plenty of room for two adults or four kids. The jump mat is a solid dark color for safety. This helps remind everyone to stay within this area when jumping.
Features & Specs of Rave Bongo Water Trampoline:
2 carrying handles
9′ 10 sided Jumping Surface
Can handle 2 adults or 4 children bouncing at a time
3 step aluminum ladder
UV inhibitors of PVC materials to reduce fading
Optional high speed inflator for a quick and easy inflation
Optional Protectant looking like new for years
Inflated dimensions:13' diameter, 26" high
Recommended anchoring:35 lbs
Water depth required: 8 ft
1000 Denier 22 oz PVC material
Inflator needed for set-up ( not included)
Inflate time:10-20 min
When your Bongo is inflated it measures big 13' in diameter and is 26" high. Don't worry; getting up on the platform is easy with the three step aluminum ladder that is included in the purchase price. This is wonderful for those of us who just need a little extra boost. It is recommended that this water toy is in no less than eight foot of water with no less that thirty-five pounds of anchoring.
Let's Bounce
Inspect the platform as you inflate it for any problems as a safety measure. There are two handles to assist with carrying the platform. There is an optional high speed inflator that you can get with the platform as well. This makes the job of inflating a lot simpler and faster. It will take you anywhere from ten to twenty minutes to inflate this water toy.
The colors are vibrant which helps when watching the kids or adults at play. There are UV inhibitors that are added to the PVC material to reduce fading of those bright colors. You also may want to choose the optional protector that you can purchase separately. This adds to the life of the color of the Bongo.
There are no tools needed to set up the platform other than a high speed inflator. This makes it easy and faster to get out there and start enjoying your new water toy. A repair kit is included in the purchase price if a problem develops. The platform is made of 1000 Denier 22 oz. PVC.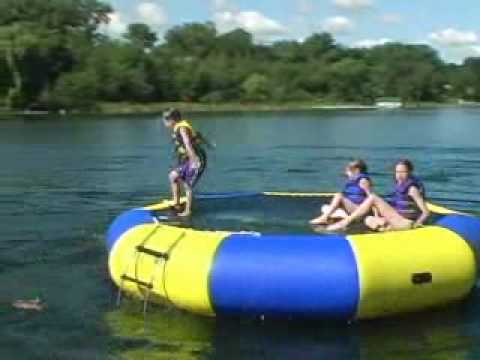 Purchase yours today and get ready for you and the family to have the time of your life. Everyone will have fun and will not realize that they are getting any exercise. How much better is this than sitting around playing on a computer all day? Take a look now at the Rave Sports 13" Bongo water bounce platform to see just how great it is.