Get ready for some awesome fun on the water. This three person tube is the perfect way to share the thrills that towable tubes offer. Just the look and colors of this one will put a smile on your face and excitement in your heart. This is the perfect tube to share with family and friends. Creating fun for the whole family, no matter what their ages, just got easier.
The Aquaglide Retro three person towable lets three riders enjoy the thrilling water ride together. They will be talking and laughing about it for days afterwards. Especially the excitement they felt with some of those awesome waves when they flew out of the water and into the air. Without a doubt, this will be the towable tube that the whole family will want to take on their vacation.
Summary of Features:
* Accommodates 3 people
* Rapid inflate valve
* EVA rash guard
* Quick connect towing attachment
* Full wrap cover
* Reflective PVC material
* Lower back support
* Cold storage and cup holders
* 1 Year warranty
* Free Shipping on Amazon
This towable ski tube is not just for the young ones in the family but for any age. This is what makes it the perfect choice for people who love to be out on the water. Families seem to be so busy these days that not enough time is spent together. Doing something that is fun and sharing is important and this is a great way to do that.
Great Ride
Feeling the wind and water in your face is exhilarating. This towable tube will fly through the water, lifting you into the air and over waves with ease. There are plenty of handles to hold on to, to help keep you in place when soaring. These handles and other areas of the towable water tube have that wonderful EVA rash guard to prevent the skin burns that you can get when riding.
Aquaglide fully wraps the PVC material that is used for the tube. This does several things, such as keeping you and the water from direct contact from the PVC.  The nylon covering is much more comfortable especially when hot and on the water. The reflective material that is used is easy to see by those that are towing you for safety.
The lower back support is wonderful especially when riding with three people in a sitting position. It provides you with support for comfort and safety as well when riding. It may be that you are just taking it slowly and enjoying all the scenery and beautiful weather; then the back support is really great. This towable inflatable tube has cup holders and cold storage which increases the enjoyment that you will get for just those leisure trips on the water.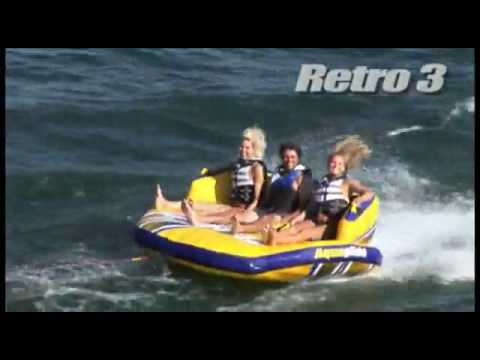 Great video showing the option of 2-way towing.  Click here to order today from Amazon, and enjoy with family and friends!  Shipping is Free!
There is no time like now for families and friends to become closer and enjoy some of life's little pleasures. Why not do it with a towable tube and create some memories that will last a lifetime. Purchase this towable inner tube and be ready to hit the water when the opportunity arrives. Go ahead and create memories for you and your family. Take a look at the Aquaglide Retro three person towable now to see all that it has to offer. Then get ready for a blast of fun.