The Aquaglide Multisport is just what the name implies because it is a three in one package of water fun: a towable tube, kayak, and windsurfer. This multi-sport inflatable is perfect people who want it all without the hassle of having three separate sets of equipment to handle. It is made for people on the go who enjoy more than one water sport at a time.
Features of Aquaglide Multisport Inflatable include:
Price includes Multisport inflatable only, include optional accessories for an additional cost
Easily converts from sailboat to windsurfer to kayak to high speed boat tow
Easily inflates and deflates for convenient transportation
In order to convert Multisport into a kayak, kayak kit must be purchased separately
4.1 model has a 25% larger hull and sail for added room, increased stability and greater sailing efficiency
3.1 dimensions=84″ x 59″
4.1 dimensions=102″ x 59″
Shipping is FREE
This multisport inflatable is a great example of the kinds of water toys that are in their line of products. Quality and durability as well as consumer satisfaction are part of the goal of Aquaglide. This multisport windsurfer/towable tube/kayak is very innovative and carries a price that is very affordable.
Fun, Fun, Fun
The only problem that you will have is deciding what you want to do for the day with this multisport inflatable. You may decide that you may need to relax and just enjoy the water. The kayak will provide you with an activity that is at a slower pace and very relaxing. This kayak is great because it is easier and lighter when carrying it to the water than other types such as hard shells and folding.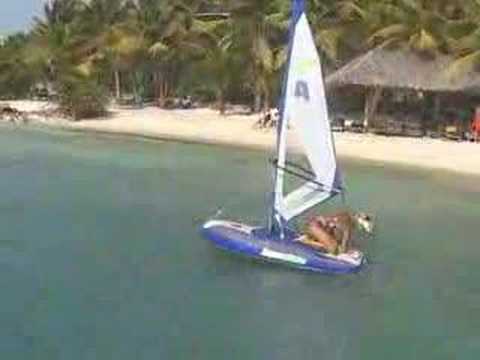 A great video with lots of choices -order yours today!!  Click here now!
Beginners will love the sitting on top verses down in the kayak. This is especially true if they worry about having to do an Eskimo roll over or get out of the boat once it has tipped. To use the kayak you will need to purchase the kayak kit which consist of a folding seat and two paddles that snap together.
Today you may want something a little faster paced on the water. This multisport inflatable makes a great windsurfer that is easy to use and transport to the water. It can be used by the beginner or even someone who has been windsurfing for years. It is light, easy to handle and durable making it a perfect option for that perfect day on the water.
Last but not least is the towable tube. If you want a day that is just plain fun then just go for the tube. Add family or friends and you have the ingredients for a great time. Some people have used it as a platform as well but I had much rather use it as a tow tube with all the laughs and giggles that comes with fun.
Dimensions:  L 84″ x W 59″ x H 10″
It doesn't matter which activity that you choose for the day. What does matter is having the right inflatable to do in with. This one is great for whatever mood you are in. It is sure to fill your needs.
The Aquaglide Company is geared toward people who want to have fun on the water. Families and friends alike can enjoy their products. A lot of the products they manufacture are changeable and can have other pieces put together for bigger and better activities that the whole family can enjoy. Versatility is the name of the game with Aquaglide.
Take a look at this awesome Aquaglide Multisport Inflatable now to see how great it is for meeting your needs and ease of use. Buy this one today!