The Aquaglide Retro 2 person towable is tubing in style and comfort. Aquaglide has done a stupendous job with this towable. It has all the fun, safety, and comfort that you might want with a group of friends or family. They are known for creating a product line that is family friendly and they hit it on the head with the Aquaglide GT 6.
Summary of Features for Aquaglide GT Towable:
Accommodates 2 people
Rapid inflate valve
EVA rash guard
Quick connect towing attachment
Full wrap cover
Lower back support
Cold storage and cup holders
1 Year warranty
Free Shipping
This great two person towable tube is great for just a smooth ride and enjoying the excitement of being together on the water together. It is an adventure that can be shared together and talked about. The children will never forget the fun they had with parents and others when riding on this tube. You can even take along drinks that can be kept cool in the tube's small cooler. Also, the drink holders are great to have for putting your drinks in.
Just because it is a lounge float doesn't mean that you don't have the excitement of tubing that you would get with the two or three man towable tubes. It is an exciting ride you are just able to share it with more people. Your back is supported with this tube and there are handles on the seat for holding on to. "GT' is short for grand turismo, which means performance cruising with style and that is exactly what you get.
See the Aquaglide Towable in action and order you inflatable lounge now.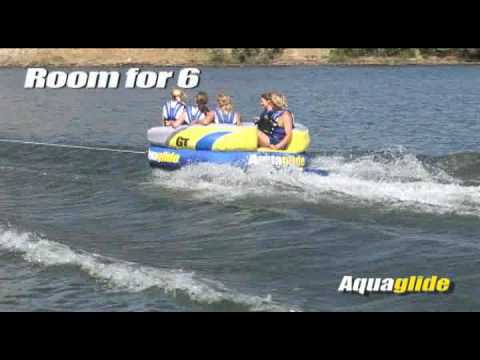 User Friendly
The term user friendly fits perfectly for Aquaglide GT 6. The quick connect tow makes it a breeze to hook up easily letting you get moving a lot sooner. The large opening one way valve lets you inflate and deflate very quickly.  It measures 104″L x 99″W x 40″H. It is also easy to get in and out of when you are on your adventure. This is especially important when you are carrying smaller children with you on the tube.
An oversized structural skin floor eliminates any suction and decreases the surface area for high speeds and slippery whips. Aquaglide's increased stability is accomplished by providing a beveled edge on one side of the tube to ride over choppy water. There is a full wrap cover that gives the extra durability and stability of 840D nylon that completely contains the inflatable bladder.
An EVA is used where knuckles, elbows, and knees come in contact with the tube to prevent a rash from occurring. Add a one year limited warranty and you are set and ready to go with this Aquaglide GT 6 floatable.
All of this and one more special feature. Buy it today; you will save off of the list price. Not only will you save off of the price. You also get free shipping and that can add up to great savings. Don't just take my word for it.
Dimensions: 104″L x 99″W x 40″H  70 lbs
Take a look now to see just what you will be getting when you purchase the Aquaglide Retro 2 towable tube. You will be asking yourself why it has taken you so long to get this great towable tube.