Towable tubes are by far the best way to get out on the water and enjoy the summer sun. You can fly across the lake on one, splashing through the waves and screaming in fun. If this sounds like your sort of fun, then you will want to avoid the ordinary. You will want a tube that is different, one that is extraordinary. You need a ride that is like no other.
The Retro 2 Person Towable from Aquaglide is just that sort of towable. As a two person speed boat tow tube, this is definitely one of a kind. It has been designed for two people to sit side by side. You will simply have to lean against the back, hang on tight, and have the time of your life. Soon you will be flying across the waves, bounding through the boat's wake.
Aquaglide Retro 2-rider Water Tube Features:
Accommodates 2 people
70in L x 72in W x 29in H
Rapid inflate valve
EVA rash guard
Quick connect towing attachment
Full wrap cover
1 Year warranty
The side wings on this awesome towable tube have been built right in, lending themselves to a much more stable seating arrangement. You will find that you can lean back without having to worry about it giving out on you. As the boat towing you speeds up, you will feel the power of this amazing speed boat tow tube as it flies across the water. You will feel like you're in a racer flying around a track at super high speed.
This 2 seater tow behind water tube with backrest is just the sort of thing you need to offer everyone the best possible time when hitting the water this summer. You will just need a small, quality air compressor which can cost very little. With just a bit of airing up you will be ready to roll in no time.
Aquaglide has its customers in mind when it comes to offering you the most comfortable ride possible. You will be able to appreciate the knuckle guards which are made from EVA as well as the very soft handholds. You will be able to enjoy your white knuckled ride without having to worry with scraped knuckles.
If you are looking for an even more fun way to ride your new Aquaglide towable, then simply turn it around. With the 2-way towing, you will be able to pull it from either direction and get totally different results. No matter if you pull it forward or backward you will have a great deal of fun!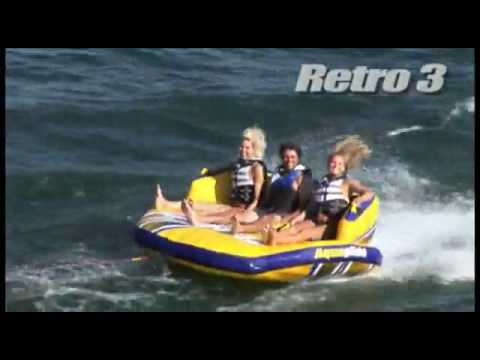 Watch for the change in towing points!  Order yours today – with free shipping!
One thing you won't have to worry with is the quality of the Retro 2 Person Towable. From the QuickConnect attachments with their reinforcement to the 26 gauge PVC used to create the air bladders, this is one sturdy model. Even the polyester and nylon, 600d and 840d respectively, are high quality.
If you are looking for an outstanding towable tube, then the Retro 2 Rider Towable is the water ski tube for you and your friends. Check it out today and get yours shipped to your home for free!