When it comes to water sports and towable tubes, Airhead knows what it takes to have fun and be safe. This towable boat tube is a great example of the thought that is put into their water sport toys. The use of the best materials for durability and safety lets you know that you can be assured of many trips to the water for fun with your towable. Visibility is also important when you are playing on the water, which the company also takes into account when manufacturing this tube.
The Airhead Storm III Towable is bright in color, making it easy to see when you are towing this tube. The bright red, yellow, white and black colors used on this tube will hold up great in the sun and water. It is important to be able to see who you are towing and how they are doing on the towable. You should always have a spotter person in the boat to observe the riders on the inflatable towable tube for safety.
Features Summary of Airhead Storm III:
Inflatable 3 rider towable
Neoprene seat pad for each rider
Nylon wrapped handles with neoprene knuckle guards
Durable RF welded 30 gauge PVC bladder
Double-stitched 840 denier nylon
Overall Dimensions: 75″ W x 116″ D (deflated)
Free shipping with Amazon prime
Get ready for action and a world of fun with the Storm III towable. The contour of the tube is such that you will enjoy all of the action of riding the wakes and gliding through the water. Be sure and hang onto the nylon wrapped handles with the neoprene knuckle guards when riding. There is space and handles enough for three people to enjoy a ride together. It is so much fun when you can share the exhilaration with other riders.
Airhead Towable Tube That Lasts
The materials that are used in this awesome towable tube means that it is going to last for many wonderful trips to the beach and water. There is a durable RF welded PVC bladder that you will not have to worry about coming apart at the seams. This is a very comfortable floating tow behind tube that you will be glad you purchased.
To increase your comfort and protect the environment the bladder of this towable ski tube is covered with a strong 840 denier nylon. This nylon has been double stitched to increase the life of the bladder and keep you more comfortable. Included is a neoprene seat pad for each of the three riders. This increases their comfort and ability to stay on the water towable when riding.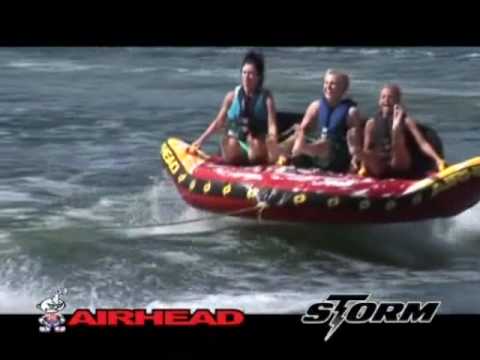 Just imagine the stories and all the fun that you will have sharing your adventures on your new towable tube. Order yours today from Amazon (with free shipping) and start sharing fun and good times does not get any better than when you are sharing it with your friends or family. What a wonderful way to make memories that will last a lifetime!
Purchase your Storm III today and plan that ultimate water fun sports trip that you have always wanted to take. Don't forget to invite friends or family to share your adventure with. Go ahead and take a look at the Airhead Storm III Towable now to see all that it has to offer you in safety and fun. You are going to love this awesome towable tube.