Imagine for a moment a combination of extreme safety mechanisms designed right into a package, coupled with superior thrill-seeking and delivering capabilities and you'll have a pretty good first impression at what the Airhead Fusion Towable Tube is really about.  There is just no other way to describe this awesomely and almost perfectly designed inflatable towable tube for adults and children.
The first thing you're bound to notice is the colorful design of this three person water sports tube.  The flashy fire engine red accented by beautiful and bold blues, finally to be complimented lastly by the eye catching yellows and blacks make this towable tube standout worse than a sore thumb.  However, the standing out part is a good thing, but not because of the psychedelic color scheme.
Tube Features:
* Innovative, dual-style tube design; both cockpit and deck tube!
* Nylon covered inflatable surface
* Kwik-Connect connector
* Boston valve for inflating and deflating convenience

* Tube Dimensions (deflated): 71″ H x 87″ W
* 4 out of 5 star review
* Free Shipping
The minute you gaze upon this center cockpit towable, you'll be transported into a realm of speed and racing.  Just envision yourself snuggled right into the center cockpit as a cozy as can be, or lying flat on your stomach holding on to the hand grips with the water spraying upwards onto your face; the possibilities are endless.  Of course if you're really into it, you can even mimic the sounds of an engine revving while you glide stylishly over any water that you come in contact with.
No matter which way you spin it, this latest offering from Airhead will put you directly into the line of action packed thrill seeking fun.  There's no way around it because your friends and family will instantly be drawn to this sleek and awesome 3 person towable ski tube.  Factor in the smiling faces and the thrill of the wind and water, and you've got the makings of a wonderful and wet afternoon spent with loved ones.
These 3 riders are enjoying the waves – Click here to order your own fun!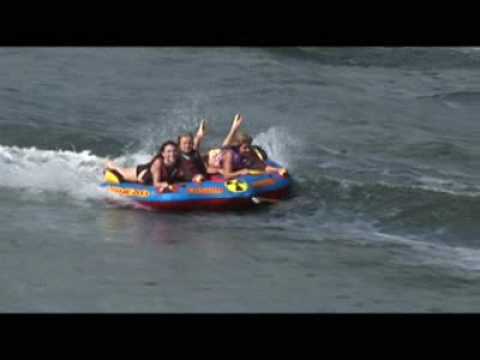 Speed and Safety First
As mentioned before, with the ever apparent racing inspired motif, this three rider towable ski tube was built with speed in mind, but without sacrificing or cutting any corners in terms of a devotion to extreme safety and functionality.  If you take a look at the design of the cockpit itself, it is meant to maximize that cradling abilities if you have a small child riding in it.
Of course, the strategically placed comfortable and durable handles also allow for an extra added level of safety, comfort, and peace of mind (although we're not sure you're really thinking about that while enjoying this tube).  The versatility of this ride also makes it such a wonderful tube because of its dual-style tube design that also delivers a deck tube for more fearless passengers.
Heavy duty nylon encapsulates the entire floatable tube making it a solid purchasing point because this thing has been built to take damage and survive ride after ride.  The Boston valve is yet another plus because it allows for easy inflating and deflating, which essentially translates to more time for enjoyment.
So if you're looking for the best of both worlds in terms of safety and functionality (with the emphasis on fun), you better go out and grab this awesome tube before it's too late.  You're friends and family will thank you.