The numbers are staggering! Out of all the boating fatalities in 2007, 82% of victims were not wearing their life jackets. With plenty of summer weather still ahead, Coast Guard Petty Officer Adam Eggers has some tips for us on how to stay safe on the water and how to be prepared should something go wrong.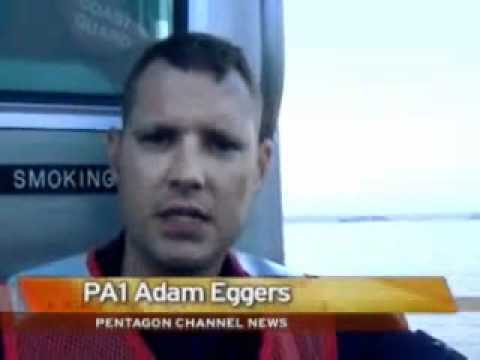 "One of the Coast Guard's core mission is ensuring safety on the water. During the summer months, that means recreational boating. Coast Guard auxiliary members, the services volunteer force, conducts vessel safety checks. These examinations are free of charge and if any violations are found, no fines will be issued."
"If we find the discrepancy; it is between the inspector and the boat owner, and they have an opportunity to correct it."
"On this morning, auxiliaries are conducting vessel safety checks at the Fort Belvoir Marina in Virginia. These boaters passed their inspection and received a sticker signifying their compliance. But if you don't have an examination, ask yourself: will you be ready the next time you hear this? – "Have you been boarded by The Coast Guard lately?" "Although The Coast Guard can issue fines, they are not the main goal of the boarding. We got underway with The Coast Guard station at Curtis Bay, Maryland to see firsthand what a boarding entails."
"Well first, when we come alongside, we want to make sure that they understand why we are there and make sure that the vessel is safe and seaworthy. After that, we pretty much as go right into the boarding, checking all their safety equipment and making sure they have all the required equipment." *SIREN WAILING* "The entire point of conducting these vessel safety checks is to ensure that if an emergency does arise on the water, that recreational boaters have the proper safety gear on board to survive.
Well, something did happen tonight, we are actually on our way to search for two people from a capsized boat."
"After searching the area where the vessel was spotted, no signs of the boat or victim were found and although the crew's response time was less than 30 minutes, sometimes help can't arrive that quickly.
Having all the required safety gear on board can drastically increase a boater's chances of survival. That is why the crew takes every opportunity to correct any problem."
"Not necessarily it is a violation not having the stuff on board, it is not having them in the right proper place. For instance, the Type 4 throwable Life Ring or throwable cushion, if it is not on deck, it is not really accessible. Most people have it inside the cabin and not where can actually get to it."
"The role as a boarding educator takes high priority for coast guard crews." "That is definitely our main goal which is to educate the boater. Then, a lot of them have questions. A lot of people just have equipment; they bought it at the store and keep it on board a boat. A lot of them don't understand what the real purpose of it is. *MAN SPEAKS ON RADIO*
Whether you are out fishing, hunting or just to have a good time, remember the water doesn't care how strong you think you are, or how well you think you can swim, or even what military uniform you put on; it treats every victim equally. Coast Guard Petty Officer Adam Eggers, Pentagon Channel News.
Well some of the items required by Federal Laws are Life Jackets, a throwable Life Ring and, of course, the boat's registration. But some of these requirements do change depending on the size of your boat.
For a complete list, visit uscgboating.org. There you can also request a vessel safety check, and sign up for a boating safety course.