Sea Eagle FoldCat (Catamaran) 375fc Inflatable Pontoon Boat
Are you a fisherman? Do you enjoy the peaceful solitude afforded by fishing in rivers, streams and backwater areas? Are you looking for a way to enjoy this peace and solitude without all the work and fuss that trailering a boat requires? I have discovered a product that might be of interest to you. Allow me to introduce you to the Sea Eagle FoldCat 375fc Inflatable Boat with Pro-Angler package. Let's look closer at this inflatable pontoon boat.
Features & Specifications of Inflatable Fishing Pontoon:
• Exterior dimensions: 12 ft 4 in x 4ft 6 in
• Deflated dimension: 56″ x 21″ x 10 "
• Tube diameter: 16 inches
• Capacity: 2 adults or 650 pounds
• Hull weight: 75 pounds
• Two independent air chambers
• 1000 denier reinforced material cover
• Quadruple overlap seams
• Floor: aluminum slat roll up over full fabric
• Halkey Roberts one way air valves
• Engine capacity: 3 hp (max 45 lb weight)
• Speed estimates: 8 to 10 mpg w/ gas motor; 6 to 8 mpg w/ electric
• Inflation & assembly time: 5 minutes
• Four-Star Customer Reviews
Benefits of Fold Cat Pontoon Fishing Boat:
• Inflatable & Portable – can fit into truck or bed of pickup; no trailer needed!
• Can get into hard-to-reach fishing spots; no get-away for the fish!
• Can work with small gas or electric motors; rowing optional!
• Swivel seats & hard platform – follow the fish, or stand, to reel them in!
• Rated 9.7 out of 10 by North American Fishing Club;  Quality Product!
This amazing inflatable pontoon boat will fit into a full size car trunk when disassembled so you can take it anywhere without dealing with the issues of pulling a boat on a trailer. It takes one person only 5 minutes to inflate and assemble it. Can you imagine how quickly two people can do it?
You even have a full floor when it is fully assembled that enables you to carry all of the fishing gear and other supplies you need. The chairs are generously endowed with cushions to give you comfort and luxury while you fish and will swivel 360 degrees to allow you to follow the fish.
Since the FoldCat 375fc catamaran is extremely lightweight, there is little drag. This allows you to fly along with either an outboard electric or gas motor. This 2 person pontoon inflatable boat will take you places of which you previously could only dream. You can travel into those hard to reach areas to locate where the fish hide to reap the benefits. The 4′ 6″ spacing apart of the pontoons provides incredible stability of the craft when compared to a hard hulled craft.
4-Star Amazon Reviews for the Inflatable Boat – FoldCat 375fc

This incredible little pontoon boat gets 4  star Amazon ratings from other customers. What are they saying? Here are some quotes from some happy customers:
"…I can now only describe the Foldcat as fabulous. It is a bit larger than I thought, which is a good thing for stability. Once I ordered the product it arrived safely in a week, I couldn't believe how fast the six boxes that it comes in, could get here (Australia)…. All the parts are very high quality and every nut and bolt was there, not a screw missing. The instructions are easy to follow and it was a breeze to assemble…. The Foldcat is very stable, you can stand up and cast, no problems, it just glides through the water effortlessly…"
"…Bought this outfit this year. Had it out all day today and several other times. No problem sitting or standing. Very sturdy and stable…. The boat can be put together and launched by one person but a bit bulky…"
"…I've had it a year, no problems. I'm using a 21/2 horse 4 cycle Suzuki to power it rather than electric, a very good move since I can go up rivers loaded with gear no problem …"
Could this be the answer to your hard to reach fishing areas?  You bet it is!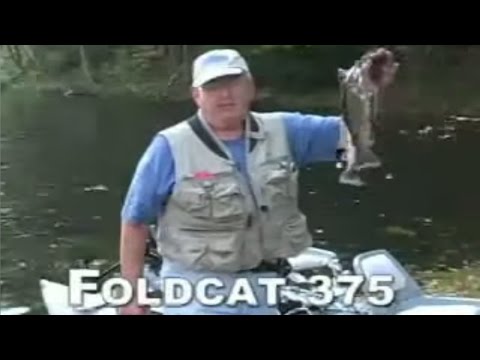 Check out the Sea Eagle FoldCat Inflatable Pontoon Fishing Boat with Pro-Angler package and see for yourself.