Thanks to Dave Faulkner from KwikTek/Airhead Products for giving us some very good tips on how to properly inflate a towable boat tube.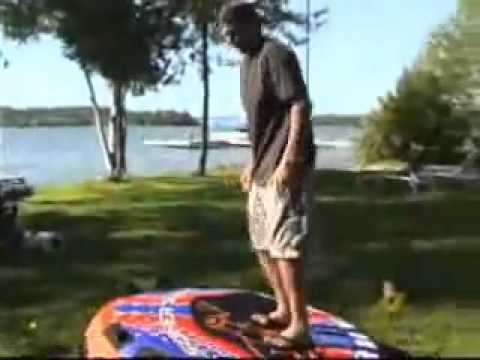 Hi, I am Dave Faulkner for AirHead Inflatables and today we want to give you some tips on how to properly inflate your tubes.
First you want to unroll it. Make sure you get all the wrinkles out, and it is nice and flat. Get the bladder so it is wrinkle free. Make sure that the valve is screwed in tight and of course that the valve is centered in the valve opening.
You want to make sure that you have one of the four pumps on hand. My favorite pump is this electric pump, the one that you plug into a household outlet, using 100 volt. It will pump it up the fastest and do a job so you can get out on the lake as soon as possible.
Option #2 is also an electric pump. It works great; it will plug into the cigarette lighter of your car or boat battery.
When you don't have electricity around, this is a great pump to have around. It is the hand pump. It inflates both directions when you are going in or out. It will inflate your tube in about 5 minutes and get you out on the water really fast.
Option #4 is another manual pump when you don't have electricity around. You feel like using your legs rather than your arms, a foot pump works great for that.
The most common mistake made when you are inflating a tube is "under inflation." So in order to check to make sure you have enough air in your tubes, you can even kneel on it or stand on it and it should appear to be very firm.
Remember your tube works best when fully inflated.
When you are through with the tube at the end of the day, leave it inflated until it is completely dry. Take the valve completely out, fold the edges of the tube over and roll the tube towards the valve.
You see how easy it is to inflate and deflate your AirHead tube. So now head out on the lake, have some maximum fun. But of course, think, and be safe.