Boating safety is one of the most important items to review prior to any trip out on the water. Watch this video for tips on how to make your guests and children safer on your boat.
Hi! My name is Chris Edmonston with the BoatUS Foundation talking to you today about boating safety. Right now we are going to talk about special considerations you should think about when bringing on board guests or small children.
Now you might have special boating buddies that go out regularly on the water, but then again you might have friends or family who aren't really used to being out on the water and special consideration must be taken when you're bringing these people on-board with you. Now those boaters frankly going to have a much better time on the water if they know what to expect. So if you take a few moments before you head out and tell them what to expect when they are out on the water, or where things are on the boat, or even how to use things on the boat. They are going to have a much better time out there, they are going to be more confident boaters and they are going to be able to help you in case there is an emergency.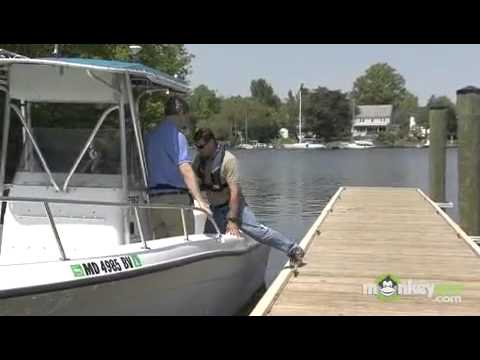 If you do have novice boaters coming with you, here are some things to let them know about.
First thing is weather. You want to let them know how to dress accordingly. It can get windy out on the water and therefore it might be a little bit chillier than they are expecting.
When you get to the boat, show them where to keep their gear. You want to keep it out of the way so it's not flying all over the boat.
Show them where the food and drinks are and let them know that they have free access to it.
You also want a talk about safety considerations. Show them where all the safety gear is, have them try on their life-jackets, make sure they fit properly. Better yet, have them wear it the whole time out.
Show them where the flares are, where the fire extinguisher is. Show them how to use the radio. You also want to tell them how to start and stop the engine.
Let them know when a wave is coming or bump on the rise is going to come. The last thing you want is for your guest to get jostled around and potentially fall down or even fall over-board, more importantly, you also want to be a great tour guide.
So it's a great way to get them enthusiastic about being on the water and also puts their mind at ease. At all times keep an eye on them to gauge how they're feeling.